Fall 2022 Courses
---
English 6260: Literary Traditions: Studies in Sacred Verse
Professor Maeera Shreiber
Tuesday/Thursday 10:45am – 12:05pm
LNCO 3870
Course Description

In the ancient world, religious texts, works of prayer, and sacred wisdom often took the form of poetry. Psalms, the Song of Solomon, and--much later--the Book of Common Prayer are all examples of works which blur the boundary between poetry and prayer. These texts, full of their own rhythms and beauty, set the stage for this course, as we set out to investigate the relationship between poetry and expressions of spiritual longing as found in the three Abrahamic religious traditions. Using each of these traditions as a discrete framework, we will work historically beginning with poems from the Hebrew Bible, turning then to medieval Hebrew poetry, and concluding this unit with some modern and examples of Jewish poets who write on the edge of prayer. Then, using the Song of Songs and Psalms as hinge texts, we will turn to the Christian prayer tradition focusing particularly on John Donne,George Herbert,and Emily Dickinson. This sequence will conclude with modern and contemporary poets including Countee Cullen, George Oppen and Louise Gluck, studying how language can be used to access and assault the divine. Finally, we will move to the Islamic tradition beginning with Rabia Basari, one of Islam's mystic poets, and ending with a cluster Muslim American poets such as Aghah Shahid Ali, and Kaveh Akbar.
Throughout we will consider the different ways poetry transforms the notion of prayer, and how prayer pushes the limits of poetry – especially the lyric.
Expectations will include short weekly responses, an in-class presentation (resulting in a paper suitable for a conference) and much discussion.
All works will be read in translation.
English 6480: Intro to Critical Theory
Professor Anne Jamison
Tuesday/Thursday 2:00pm - 3:20pm
LNCO 3870
Course Description
This course examines theories based on systems, networks, and assemblages, broadly conceived. Some of these include Kant and some responses to Kant (Lacan, Adorno/Horkheimer); Marx and some responses to Marx (Althusser, Benjamin, Fanon); and Freud and responses to Freud (Lacan, Kristeva). We then turn to linguistic structuralism (Saussure, Jakobson), literary formalism and structuralism (Barthes, Mukařovský) and its extensions/critiques into other semiotic areas (Foucault, Derrida, Ngai); systems of oppression (Butler, Halberstam, hooks, Crenshaw, Schalk); assemblage and network theory (Latour, Deleuze), and post humanism (Heidegger, Hayles, Lillvis).
English 6620: Early Modern Literature
M/W 3pm – 4:20pm
LNCO 3870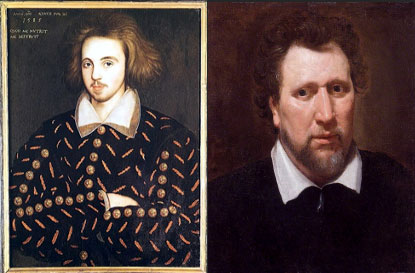 The Critic and the Criminal: Christopher Marlowe and Ben Jonson
Course Description
One was the son of a cobbler, the other the adopted son of a bricklayer. One went on to distinguish himself as a scholar at Cambridge, while the other grew up on the streets of London, never took a degree, never held a steady job, constantly made enemies, was several times imprisoned for libel, debt, and recusancy, was once implicated in a plot to overthrow the government, and narrowly escaped hanging as a convicted murderer. If you think the latter is Marlowe, guess again. Whereas Jonson somehow rose from these tempestuous origins to become poet laureate to King James, and the most revered dramatist and literary critic of his age – at one point, next in line to be Master of the Revels, the official state censor – Marlowe plunged meteorically back into shadow, becoming a state spy and thug, a target for charges of heresy, sodomy, atheism, and counterfeiting, and would die a pauper, stabbed through the eye in a tavern brawl, his name all but forgotten for the next two centuries. And yet, more directly than anyone else (the stable, well-adjusted, somewhat colorless Shakespeare included), these two men perpetually on the brink of destroying themselves were responsible for creating English Renaissance theater as both a commercial institution and an art form.
This course is intended as an exercise neither in literary biography nor in theories about the psychology of the artist. Nevertheless, we will have occasion to notice how strongly the personalities of these two writers – their predominant aesthetic and social concerns, their antagonisms toward theater, patronage, and tradition – inform our reading of their texts, and have inflected contemporary criticism in turn. Those texts will consist mainly of plays, but we will read Marlowe's erotic verse, as well as sample Jonson's poetry and court masques. Embodying polar opposite constructions of authority, Marlowe and Jonson together provide the ideal means for understanding how authority worked in early modern England, and how literature argued for its relation to it – lessons especially pertinent to us today, as we address ourselves as artists and intellectuals to an increasingly hostile, hypocritical, willfully ignorant, and self-destructive culture. How did theater, a medium of surfaces and illusion, speak truth to power? How (if at all) did it reconcile the demands of instructing and delighting its audience? How did it gradually claim for itself a home on the page as well as the stage? What forms of resistance can literature encode or enable? Does such resistance mean anything? How and why should one speak in public when seemingly no one is listening – or, at the same time, when everyone is? Despite surprisingly similar apprehensions of these problems, finally, how did one half of this pair end up the voice of the political establishment, and the other its abjected antithesis?
Readings (a bit ambitious, may require pruning):
Jonson:
Every Man in His Humour
Sejanus
Epicene, or the Silent Woman
The Alchemist
Bartholomew Fair
The Devil Is An Ass
The Masque of Queenes
"To Penshurt"
"On The Famous Voyage"
Marlowe:
Dido, Queen of Carthage
Tamburlaine Part I
Doctor Faustus
The Jew of Malta
Hero and Leander
Textbooks (please purchase independently, and make sure ISBNs match):
Christopher Marlowe, Doctor Faustus and Other Plays, ed. David Bevington and Eric Rasmussen (Oxford World's Classics) ISBN 9780192834454 (in print, $11 new)
Christopher Marlowe, The Complete Poems and Translations, ed. Stephen Orgel (Penguin Classics) ISBN 9780143104957 (in print, $12 new)

Ben Jonson, Five Plays, ed. G.E. Wilkes (Oxford World's Classics) ISBN 9780199555772 (in print, $15 new)
**All other primary and secondary readings will be provided via PDF free of charge**
English 7030: Fiction Workshop
Professor Michael Mejia
Thursdays 4:35pm - 7:30pm
LNCO 3875
Novella/Novela/Nouvelle/Novelle/Novella
Just what is a novella? In the United States, these works, generally accepted as distinct from short stories and novels (though one often hears of the "long story" or the "short novel"), tend to be defined not by what they do differently from other prose genres, but by their actual length, their page or word count. Stephen King, in the afterword of his collection of novellas, Different Seasons (1982), suggests that the novella is "an anarchy-ridden literary banana republic" measuring somewhere between 20,000 and 40,000 words. Depending on the source, the cutoff may be somewhat lower, or quite a bit higher, but the negative implications regarding the novella's nature remain. Such definitions are relevant not so much to the writer of the novella—who will, hopefully, give their narrative whatever space it needs or can bear, the market be damned—but rather to the editor and the agent. "Do we have space for that in our magazine?" "Will people spend money on a 50-90 page thing that we can't really sell as a novel?" Identifying the novella solely by its length, that is, is to measure a distinctly uncommercial form with a commercial measuring stick.
And then there's Joyce Carol Oates' take: "[O]ne of the things that intrigued me about it is its uselessness…it's written for the drawer…absolutely no market for a 100-page 'story' like this…too short for publication as a book, monstrously overlong for magazine publication, which leaves…well, nothing at all. Yet I toiled over it." The perspective, again (admittedly with some irony), is commercial. But I will always embrace these creative characteristics: the useless, the monstrous, the nothing.
A look at the aesthetic history of the novella, as a genre, takes us back to Boccaccio's Decameron (1353), whose "novellas" are quite a bit shorter than the stories that have born that name since at least Cervantes' time, and those that became the subject of intense scrutiny and debate in Goethe's Germany. The novella, then, must be defined by something more than just size. In this course, we will reflect on what seem to be some possible characteristics of the novella that have emerged over the past seven centuries and we'll use these as guidelines for developing our own original, contemporary novellas. I'll stress "contemporary" here because notions of "newness" and "news," of some kind of "up-to-dateness," are embedded in the genre. How our various authors have addressed the novella's "contemporariness" will be an important subject of our discussions.
Finally, a few comments about the novella from the Germans, great theorists of the form (known to them as "novelle") in the 19th century:
Goethe: "What is a novelle but an unprecedented happening that has actually occurred?"
Ludwig Tieck: "The novelle…should…distinguish itself by the way it focuses intensely on one great or modest occurrence, which, however easily it can happen, is yet wonderful, perhaps unique."
Friedrich Shlegl: "A novelle is an anecdote, a hitherto unknown story, told as one would tell it in company, a story which must be capable of arousing interest in and of itself alone, without regard to any connection with the nations, the times, the progress of humanity, or even the relation to culture itself."
A.W. Schlegl: "The novelle recounts remarkable events that have, as it were, occurred behind the back of bourgeois conventions and regulations."
Franz Grillparzer: "[T]he novel psychological, the novelle psychopathic."
Assigned texts may include work by Heinrich von Kleist, Henry James, Katherine Anne Porter, Marguerite Duras, Yukio Mishima, Clarice Lispector, John Keene, César Aira, Roberto Bolaño Diane Williams, Jenny Erpenbeck, Nina Shope, Marie NDiyae, Yoko Tawada, and Fleur Jaggy.
English 7040: Poetry Workshop
Professor Paisley Rekdal
Mondays 4:35pm - 7:30pm
LNCO 3875
Course Description
The aim of this course is to polish students' poetry and to examine how a book of poems can form a unified whole. We will learn how poets' works deal with particular themes, and how this affects poem order and even poetic structure in manuscript form. Students will read and critique each other's work weekly. Student presentations of class texts expected. We will be reading at least six recently published books of contemporary poetry. I'll begin each workshop with a brief lecture on poetic structure, form, and prosody. This course includes one individual research project that will be the focus of discussion in class: each student will present a poet (or a poem, or a group of poems) she thinks has been unfairly ignored or underrated, and "teach" that poem to the class.
English 7450: Narrative Theory & Practice
Professor Lance Olsen
Tuesdays 4:35pm - 7:30pm
LNCO 3870
Course Description
From one perspective, all narrativity save for those most acutely cookie-cutter varieties (Harlequin romance, pulp science fiction, potboiler porn, etc.) is "experimental" in that it involves countless acts of exploration and discovery on the part of author and reader. From another, however, such a statement is devoid of theoretical nuance, a sense of the larger conversation across time and space called literary history, and an understanding of the (ir)realities concerning the pragmatics of the current publishing industry. Closer to the point might be some provisional statement suggesting "experimental" narrativity is that which asks such questions as: what is narrative? what are its assumptions? what are its politics and social dynamics? its limits? how does narrative engage with the problematics of representation? identity? race? temporality? gender? genre? ideas of "literature" and "the literary"? authorship? readership and the act of reading? Perhaps another way to approach a tentative definition of "experimental" narrativity might be to suggest it is the sort that includes a self-reflective awareness of and engagement with theoretical inquiry, concerns, obsessions. In this seminar, which weekly will be roughly divided in half between an experimental-narrative workshop and a literary-theoretical conversation, we shall explore various 20th- and 21st-century novels that have been labeled experimental in order to investigate the above questions, better understand both more and less conventional narrativity, and help place our own writing—critical, creative, amphibious—within the context of current colloquies concerning narrative theory and practice.
Required Texts. The Cambridge Introduction to Narrative, H. Porter Abbott (2020). Blood and Guts in High School, Kathy Acker (1984). The Unnamable, Samuel Beckett (1953). Nox, Anne Carson (2010). 88 Constellations for Wittgenstein, David Clark (2009). House of Leaves, Mark Z. Danielewski (2000). The Sound and the Fury, William Faulkner (1929). The Unfortunates, B. S. Johnson (1969). Jealousy, Alain Robbe-Grillet (1957). Here, Richard McGuire (2014). Ascension, Steve Tomasula (2022).
English 7780: American Literature
Professor Howard Horwitz
Monday/Wednesday 11:50am - 1:10pm
LNCO 3875
Course Description
We will study materials generally produced in the 1850s, that is, during the years leading to the Civil War. This period saw debate about slavery, the laboring classes, the status of women, and the social function of religious discourse (which was used both to defend and to criticize slavery). The Mexican-American War (1846-48) dramatically expanded U.S. territory, intensifying debate about the expansion of slavery, and also about the merits of the southern slave system and the northern wage system. The literary and other materials we will study examine issues of slavery, the role of individuals in a commercial setting, the scope of federal law, notions of God and spirit—the issues circulating in the culture during the run-up to the Civil War. Some of the texts we will read were best sellers or otherwise influential; others were overlooked for various reasons in the period. We will explore the extent to which the discourses we encounter from this period resonate today. In addition to texts recognizable as literature (including a so-called domestic novel), we will read select legal, medical, and religious texts. The range of texts accustoms readers to the idiom and reasoning of the period, to help us understand texts and context. We will read some criticism relevant to our primary texts.
The course is a seminar. After the first week, during each class I would like one or two students to present an important passage from a text—nothing particularly formal; just get discussion going. I will select very limited passages, with, I hope, clear questions. Students may also select their own passages. One goal of these presentations (which will not be graded) is to help students become accustomed to presenting work aloud and to defining issues in texts, as preparation for the later presentation on their seminar essay projects in the final weeks of the term. We will not read much the final 3 or so weeks of the course, as students develop and make presentations about the seminar essay (@15 pages in length).
By the way, we will read Uncle Tom's Cabin, a long novel, but easy to read; but we will not read Moby-Dick. Because we are not reading much new material during the closing weeks of the semester, if we read both novels, little time would remain for many other materials. We will read shorter materials by Melville instead.
Texts on order in University Book Store:
Frederick Douglass, Narrative of Frederick Douglass (Penguin, 9780143107309)
Fanny Fern, Ruth Hall: A Domestic Tale of the Present Time
(Penguin, 9780140436402)
Herman Melville, Billy Budd, Bartleby, and Other Stories (Penguin, 9780143107606)
Harriet Beecher Stowe, Uncle Tom's Cabin (Penguin, 9780140390032)
Henry David Thoreau, Walden; or, Life in the Woods (Penguin, 978-0140390445)
Walt Whitman, Leaves of Grass (Penguin, 9780140421996)
Harriet Wilson, Our Nig: or, Sketches from the Life of a Free Black (Penguin, 9780143105763)